AT THE VAN OF TRANSPORT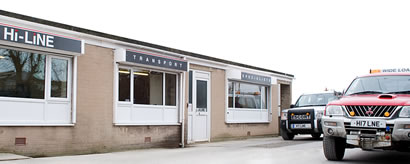 Rory McDonald, owner and director of Hi-Line, the specialist caravan haulage company, talks to Hugh Sorrill about the particular challenges in his sector.
Since before Easter, Rory McDonald has been a busy man. His business is less dramatically seasonal than once it was but there are still high spots in the run-up to holiday periods. Rory's company, Hi-Line Transport, hauls caravans, although it is too narrow a word for the wide, indeed palatial, mobile homes on his trucks.
As leisure parks and resorts gear up for the influx of holidaymakers, their demand for new caravans goes up dramatically, and when the new ones are taken in, the old ones have to be taken out.
"There are two categories of caravan we carry," says Rory, "Those for the leisure industry and those with a residential use. We move new and used, in fact we're involved in every type of transport in the caravan industry, from trailer tents up to the 60 x 20 units that come in two halves – every type of caravan and every type of customer. We also deliver to various docks for shipping to France, Spain and Ireland.
Whereas most hauliers have to keep within weight regulations, caravans are comparatively light and fragile. Their widths and sometimes their lengths bring them within abnormal load regulations, presenting more complex movement problems than general haulage.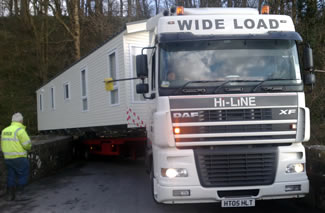 It's a skilful job moving these things around the country," says Rory. "Overhanging trees, for example, can rip the side off a caravan and traffic calming measures can make a road too narrow to go down. But it is also an enjoyable job – you're going to holiday resorts, to the dales, to the coasts.
" And there is also the satisfaction of getting a big object into a tight place. When the first caravan sites were developed in the 50s, the caravans were a lot smaller, about six-foot wide. So it can be very tricky getting in if the owner hasn't widened the access."
With all the variables in the type of caravans to be hauled, the routes and the access, Hi-Line has to be flexible. Rory has ten different sizes of trailers and rigids to cope. All with 17.5" wheels, they are all bespoke or specially modified to reduce load height: step frame trailers have had their neck portions reduced in thickness to allow caravans to be pulled up all the way and flat beds have had adjustable wheel depressions installed.
More important perhaps than the physical obstacles of the job are the legal ones.
"Apart from the ordinary road haulage regulations we also have to follow the wide and abnormal load regulations," says Rory. "This means we have to notify the police of movements two clear days beforehand. We have to tell them where we're travelling from, where we're going to and the route we will be taking. And we're not allowed to deviate from it. This also restricts our working time as we are not allowed to travel loaded in the rush hours traffic at each end of the day. Often we have to have police escorts and those are becoming more and more difficult to arrange in the right timescale. This kind of work is right at the bottom of their priority list: if they are short staffed due to an RTA we are made to park up, sometimes for hours, which can cause us serious delays. I believe that some of these restrictions are unnecessary, it's only a wide load after all, but these days at least the police are allowing us to use more private escorts. It's an extra cost to us, of course, but it is something we welcome. Many of the people that we use as escorts are other members of the Caravan Hauliers Group."

Rory is the long-standing chairman of this specialist RHA group – he was elected to the committee in 1989 and has been the chair since 1993. "It is a very useful group to be part of. When other members act as escorts, you can be sure they know what they are doing. Sometimes we have to go out and check on various new routes but if it's in an unfamiliar part of the country we can ask one of our colleagues."
The group maintains good links with bodies in other parts of the caravan industry, such as the National Caravan Council and the British Holiday and Home Parks Association as well as with the various regulatory authorities.
"We have had meetings with the Health and Safety Executive and established a code of practice for caravan haulage," says Rory, "and our group secretary Bob Stacey meets regularly with VOSA (the new combined Vehicle Inspectorate and Traffic Area Network) and the Department of Transport."
There is also a campaigning element to the group: "We have recently been successful in getting a traffic bollard lowered in North Yorkshire," says Rory. "It made the road so narrow for us that we were having to go on the pavement to get past."
But Caravan Hauliers also have a very particular interest in the Working Time Directive for Mobile Workers. All journeys with wide or abnormal loads require a driver's mate to assist the driver to look out for obstacles, so everything that applies for one person, the driver, applies to the mate too. Double the impact. For this sector especially, delays at all points are a regular feature of life, which will make the effect of the Directive somewhat more dramatic than might otherwise be the case. "We suffer quite a lot of delays at the factories – the manufacturers are aware of the problem and they are working with us to address it but they are not there yet. Overhanging trees will also cause loss of time: local authorities are obliged under the Highways Act to keep roads clear of trees and hedges but some are short of money and put it off. The most awkward cases are when trees have a protection order on them."
Fuel duty is a major bugbear, too, not that it would seem so, given the lightness of their cargo but caravan hauliers use just as much fuel as any transport company making full use of their payload. The reason is drag.
"The drag factor means we will get the same effect as if we were pulling a heavy load," says Rory. "We find that we need large capacity engines to cope, particularly as we are affected by bad weather – winds are the worst. Because the caravans are all different sizes and very often over twelve-foot wide, air deflector kits won't work for us. If you have to turn sharply up a hill having one can mean you nick the tractor with the caravan damaging both."
There are, therefore, a huge number of factors and variables that Rory has to take into account to make a success if his business. He has had plenty of experience, 20 years of it, this year in fact.
"David Molyneaux and I started moving caravans in 1983 on behalf of his company Westfield Caravans. Hi-Line Caravan Transport became a separate company in 1984 and then became Hi-Line Transport Ltd in 1987. We were moving a lot of other goods around then and we didn't want to restrict the business to just caravans. The business goes like that, I think. These days about 95 per cent of what we do is caravans but it was a lot more mixed at that time- this includes car transporting and the use of tractor units on general haulage in the run-up to Christmas."
Hi-Line has developed over the years and now includes a broad customer base of dealerships, manufacturers and leisure groups as well as many sites and private customers, all of which provide the stability required for a growing business.
The prospects look good for Hi-Line, the leisure industry is growing now," says Rory. "Foot and mouth hit us hard but that has been balanced by people holidaying more at home instead of going abroad and that's good news for us."
Notes About This Article:
Originally published in May 2003. Some changes in the industry since the publication date mean that we now provide "private escorts" instead of Police escorts. We are now recovering from the "Credit Crunch" and more people are enjoying holidays at home, as in 2003. The RHA Secretary is now Nick Deal and Hi-Line Transport is 25 Years old this year.